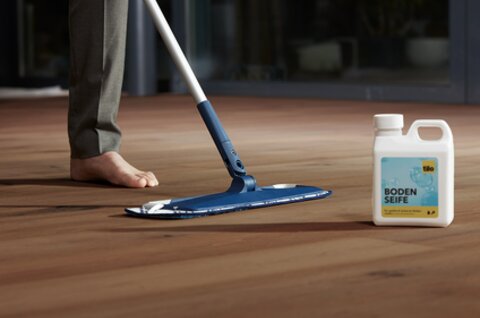 tilo macht
Cleaning and
care accessories
Simple, fast, universal: the cleaning & care system from tilo
Thoroughly
pure joy.
Proper care ensures that your tilo floor maintains it's value and pure beauty. So that you can enjoy it from the ground up! All of our cleaning and care products are specially made for the requirements of our tilo floors. They do not attack the surfaces, have a revitalizing effect and let your floors shine like on the first day. And the best thing about it: You don't need any other cleaning products.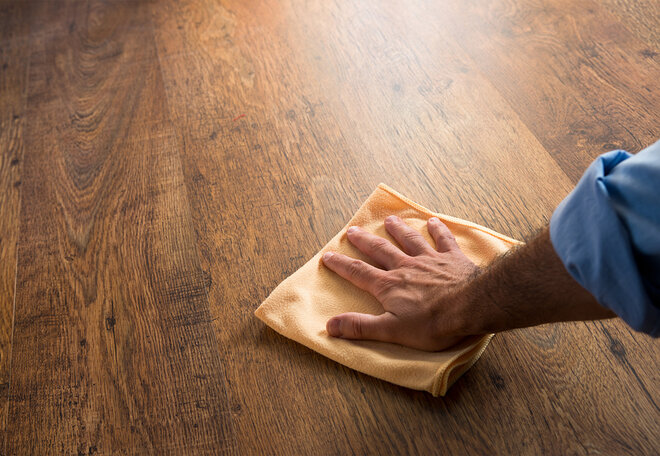 Aus Liebe zum Boden.
Reinigungs- & Pflegemittel
For light to medium soiling
Soap cleaner and Quick care products
We recommend damp cleaning with the tilo Soap Cleaner and subsequent treatment with tilo Quick Care. Both Soap Cleaner and Quick Care can be used for oiled and varnished floors.
For heavy soiling
Intensive cleaning & Intensive care
In this case, it's best to use tilo Intensive products. tilo Intensive Cleaner loosens the dirt from the surfaces - afterwards use the suitable Intensive Care to restore the surface.
Pure joy
Cleaning & care
Download our care & maintenance tutorials now:
Newsletter-Service
Pflege-Reminder
Tragen Sie sich ganz unverbindlich in unseren Pflege-Reminder ein.